Madeleine Parent was born in Montreal. In 1936, she began studying sociology at McGill University because she wanted to avoid having to study at a nuns' college.  She graduated in 1940.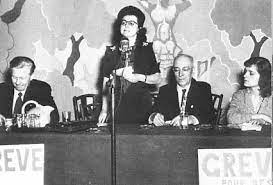 In 1942, at the age of 24, she organized the unionization of workers at Dominion Textile under the banner of the United Textile Workers of America (UTWA). She met the trade unionist Kent Rowley, who would become her husband and comrade in arms. In 1946, the Dominion Textile still refuses to recognize the union and she actively participates in the strikes of factory employees in Saint-Henri, Hochelaga and Valleyfield. 
Premier Maurice Duplessis declared the strike illegal and ordered the arrest of the main union leaders: Madeleine Parent, Kent Rowley and Azelus Beaucage. Duplessis accused Parent of being a Russian communist who was trying to start a revolution in the Gaspésie. She and Rowley were convicted in 1948 for seditious conspiracy. Rowley served six months in prison.
Despite the arrest of the leaders, the 100-day strike of the 6,000 workers of the Dominion Textile Company was a victory and Parent was acquitted in 1955 after many proceedings. In her career, she was arrested five times and convicted seven times for seditious conspiracy.
With Kent Rowley, she travelled across Canada in the 1950s to create local unions independent of the American unions.
She returned to Quebec after Rowley's death in 1978. She participated in the National Action Committee on the Status of Women and championed the cause of Native and immigrant women.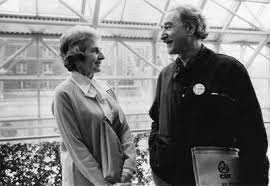 Journalist and feminist Judy Rebick paid tribute to her by writing that she was "one of the few activists who had as much influence in Quebec as in English Canada".
In 1984, the Confederation of National Trade Unions paid tribute to her at its 52nd convention, along with Michel Chartrand.
Photo: Madeleine Parent with Michel Chartrand at the CSN convention in 1984
---
Subscribe to receive our posts by email :