Once again this year, and at the dawn of negotiations in the public sector, the Institut de la statistique du Québec (ISQ) has made a clear finding: the gap in overall compensation (including benefits) persists. As of April 1, 2022, the gap for public sector workers was -3.9% compared to other employees in Quebec.
Statistics to better understand the stakes of this negotiation
– Average salary for public sector employees of the Common Front: $43,916
– Wage gap: -11.9
– Overall compensation backlog: -3.9%;
– Percentage of women represented by the Common Front: 78%.
"On the salary front, year after year, the gap remains significant. It is -11.9% compared to all other employees in Quebec. After that, the government is surprised that, in the context of a labour shortage, we are having difficulty attracting and retaining personnel in our public networks, in education, in health and social services and in higher education.It is not for nothing that we are asking for an inflation indexation clause to protect the purchasing power of workers, as well as wage increases commensurate with the services rendered to the population,"

The 4 presidents QFL – CSQ – CSN – APTS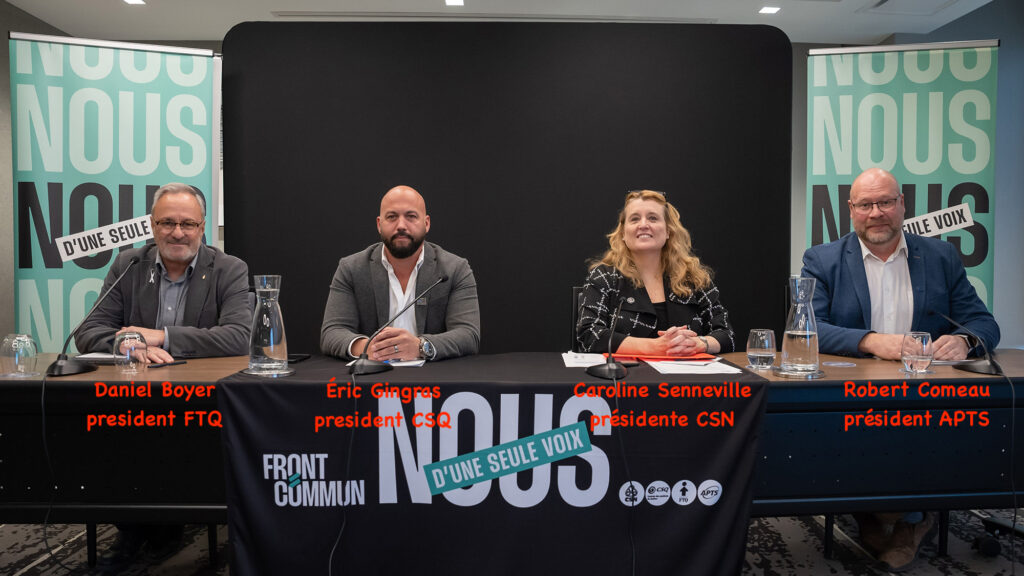 If we pay particular attention to the various data presented in the report, we notice some notable differences, including with unionized private companies, which offer a total compensation that is 9.3% higher than in the public sector. There are also significant differences with categories with comparable conditions, including municipal government (-34.6%), government business enterprises (-19.6%), the university sector (-15%) and the federal government (-11.6%).
Among skilled tradespeople (carpenters, electricians, plumbers and others), the gap is still very large, at 30.7%. It is not surprising that it is extremely difficult for health and social services institutions and the school and college networks to recruit this qualified workforce, which is essential for the maintenance of our facilities.
"Beyond the figures presented by the ISQ, it is the issues that undermine our public networks that must be addressed. And that means negotiation. The Legault government will have to take the measure of the salary offers that it must present to government employees at the end of December. These offers must allow for real enrichment. We need more than goodwill, great orientations and a lot of thanks. The status quo is not acceptable,"

Union leaders
---
Subscribe to receive our posts by email :